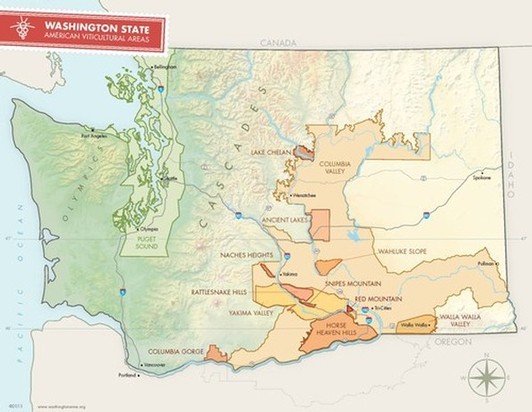 Washington is the nation's second largest wine producer behind California and is ranked among the world's top wine regions. Washington produces more than 30 wine grape varieties, a ratio of 51% red to 49% white as of the harvest in 2015. Cabernet Sauvign is the top producing grape at 47,400 tons and Riesling is second at 44,100 tons. There are 13 AVAs (American Viticultural Areas), below is a brief description of a few of the more well known AVAs.
Columbia Valley
Encompassing more than a third of the state, the Columbia Valley is by far Washington's largest growing region at nearly 11 million acres. The appellation is located in central, south-central, and south-eastern Washington with part of the appellation spilling across the border into Oregon.
The Columbia Valley is home to over 99% of all of Washington's vinifera acreage. Cabernet Sauvignon is the most planted grape followed by Merlot, Chardonnay, Riesling, and Syrah. However, over 30 vinifera varieties are currently planted in this region.
Yakima Valley
Yakima Valley is located in south-central Washington State. Designated in 1983, it was the first federally recognized wine-growing region in the Pacific Northwest. It also is the largest sub-appellation of the Columbia Valley, both in total size and wine-grape acreage. Within its complex terrain, the Yakima Valley AVA encompasses three distinctive sub-appellations: Red Mountain, Snipes Mountain, and Rattlesnake Hills. Yakima Valley is one of Washington's most diverse growing region. Its vineyards flourish across nearly a hundred miles, and they yield more than 40 different white and red grape varieties.
Walla Walla Valley
Walla Walla Valley is located in southeastern Washington by the Oregon border, with part of the appellation stretching across state lines. The growing region is wholly contained within the Columbia Valley and is named after a Native American term for "many waters." The Walla Walla Valley has boomed in the last fifteen years and has the highest concentration of wineries in Washington.
Grape production is dominated by red varieties. Syrahs from Walla Walla Valley, particularly the southern section of the valley, are notable for their distinctive savory profiles, full of earth, black olives, iodine, and smoked meat. Cabernet Sauvignon is the most planted variety.
Red Mountain
Red Mountain is the smallest appellation in Washington State at 4,040 acres (1,630 ha). Due to warm temperatures, red grape varieties dominate on Red Mountain. There are, however, limited plantings of white grape varieties as well, particularly Sauvignon Blanc.
Red Mountain Cabernet Sauvignons tend to be full bodied, dark, and dense with dark cherry aromas and flavors. Merlots can be powerfully tannic—even more so than Cabernet. Red Mountain Syrahs tend to be bold and full-bodied, with abundant dark fruit flavors and mineral notes. Red Mountain wines often have a distinct minerality.
Columbia Gorge
The Columbia Gorge, named after an 80-mile long gorge the Columbia River carved into basalt bedrock, is located in south-central Washington. The area straddles the Columbia River, with part of the growing region extending into Oregon.
Due to relatively cool temperatures in some areas of the appellation, the Columbia Gorge is one of only three growing regions in Washington where white grape plantings outnumber red grape plantings (Yakima Valley and Ancient Lakes are the others). White wines from this region are known for their crisp acidity.
Horse Heaven Hills
The Horse Heaven Hills appellation is located in south-central Washington along the Washington-Oregon border. The area takes its name from an early pioneer who said, upon seeing the region and its wide prairies and expanses, ''Surely this is Horse Heaven!"
The area is among Washington's warmer growing regions, allowing a wide variety of grapes to ripen successfully. Many vineyards in the Horse Heaven Hills are planted on south-facing slopes, providing for extended sun exposure. Two-thirds of the acreage is planted to red wine grapes and one-third to white wine grapes. For reds, Cabernet Sauvignon and Merlot dominate. Whites are almost evenly split between Chardonnay and Riesling.
Puget Sound
The Puget Sound appellation is located in north-western Washington and encompasses a wide swath of land—including numerous islands—from the Canadian border to the north through Seattle to Olympia, the state's capitol to the south. Notably, Puget Sound is Washington's only growing region located west of the Cascade Mountain range.
As a growing region, Puget Sound is unique for Washington in that it has a temperate, maritime climate. In contrast, Washington's growing regions east of the Cascade crest have an arid or semi-arid, continental climate. Puget Sound is therefore by far Washington's coolest and wettest growing region. Cool climate grapes dominate in this area, with Pinot Noir the most planted variety followed by Riesling.
Source: Washington State Wine Commission