Food Pairing Tips
General guidance for wine pairing with a meal is to move from light to dark wines, working from lighter tastes to heavier tastes, similar to how a meal is planned. And though everyone has a unique sense of taste, and thus individual preference for pairing, there are some helpful guidelines on what varietals of wine match well with certain styles of food.
This is one of the most simple yet informative infographics showing wine and food pairings. We refer to it often when we are stumped on a good wine varietal match to the dinner we are making. Select image to view.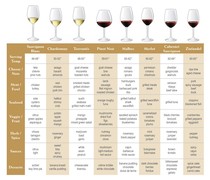 And below are some excerpts from a Food & Wine Magazine guide for food and wine pairings.
Pinot Noir is great for dishes with earthy flavors. Recipes made with ingredients like mushrooms and truffles taste great with reds like Pinot Noir and Dolcetto, which are light-bodied but full of savory depth.
Malbec won't be overshadowed by sweet-spicy barbecue sauces. Malbec, Shiraz and Côtes-du-Rhône are big and bold enough to drink with foods brushed with heavily spiced barbecue sauces.
Cabernet Sauvignon is fabulous with juicy red meat. Cabernets, Bordeauxs and Bordeaux-style blends are terrific with steaks or chops: Their firm tannins refresh the palate after each bite of meat.
Syrah matches with highly spiced dishes. When a meat is heavily seasoned, look for a red wine with lots of spicy notes like Syrah or a Cabernet Franc.
Old World wines and Old World dishes are intrinsically good together. The flavors of foods and wines that have grown up together over the centuries—Tuscan recipes and Tuscan wines, for instance—are almost always a natural fit.
Pair a Dry Rosé with rich, cheesy dishes. Some cheeses go better with white wine, some with red; yet almost all pair well with dry rosé, which has the acidity of white wine and the fruit character of red.
Pinot Grigio pairs well with light fish dishes. Light seafood dishes seem to take on more flavor when matched with equally delicate white wines such as Pinot Grigio.
Choose Chardonnay for fatty fish or fish in a rich sauce. Silky whites like Chardonnays are delicious with fish like salmon or any kind of seafood in a lush sauce.
Off-Dry Riesling pairs with sweet & spicy dishes. The slight sweetness of many Rieslings and Gewürztraminers help tame the heat of spicy Asian and Indian dishes.